PROJECT OVERVIEW
Project:

Teaching English

Room and Board:

Host family & 3 times a day local food

Meal:

Local meals 2 times a day (breakfast & dinner)

Work Hours:

30-36 hours per week

Start Date:

San Jose or Manuel Antonio

Arrival and Departure:

Juan Santa Maria International Airport, San Jose

Location:

San Jose or Manuel Antonio
Get More Info Now
Project Summary
Because Costa Rica is one of the more developed nations in Central America, it is a predominant destination for tourism. With so many tourists coming to visit, speaking English becomes a desired skill. However, many children and adults can't afford to learn English and as a result they are not able to access these opportunities.
Your role as a volunteer is to help the locals learn English, which will in-turn positively affect their career opportunities and lifestyles. With your help, they will be able to have bright futures and overcome poverty. The students you teach will be eager to learn from foreign volunteers and you are welcome to teach English as well as other subjects that may positively influence their lives.
Contact RCDP today to learn more about Teaching English Volunteer Opportunity in Costa Rica.
Skill/Qualification
You do not need previous teaching experience to volunteer in the project. However, you should be a good role model, and be flexible and patient as working with students can sometimes be demanding. You should also have a sound knowledge of the English language. Volunteers also need to go through a background check.
Volunteers must be at least 18 to volunteer. Volunteers who are at least 16 years old can also volunteer on their own but with parental consent. Those below the age of 16 years old need to be accompanied by an adult, guardian or parent. Though not mandatory, it will be helpful to have basic knowledge of Spanish for a more immersive experience. If you want to learn Spanish, we offer Spanish classes that you can take while volunteering.
Volunteer's Responsibilities
Your primary role will be to teach English to the children in a local school. Your duties will involve teaching grammar, vocabulary and helping students improve their reading, writing and conversational English. If you want, you can also share your knowledge about other subjects with the children or become involved in extracurricular activities. You can also teach English to the adults in community centers.
Project Location
We offer the Teaching English Volunteer Program in Costa Rica in two locations- San Jose and Manuel Antonio.
San Jose is the capital of Costa Rica and the nation's largest city. It is a cultural hub, whose diversity is one of the attractions of the beautiful country. The presence of numerous historically important buildings and mind blowing museums makes it even more special, along with the fine restaurants and old bars that have been there for decades.
Manuel Antonio boasts some of the most beautiful beaches and is located in the Central Pacific Conservation Area located on the Pacific coast of Costa Rica, just south of the city of Quepos, Puntarenas.
Accommodation/Meals and Supervision
Volunteers in Costa Rica will stay in a volunteer hostel or with a host family. The host family is well screened and used to having volunteers. The local coordinator will place you in the location they think is best. In either location you will have the opportunity to practice your Spanish and meet other volunteers and locals.
If you stay with a host family, you will have a shared room with kitchen and bathroom facilities. You will have the opportunity to do your own laundry or pay a small fee for someone else to do it for you. This can be arranged with your hosts. You will be provided 2-3 meals per day depending on the project, and can request a lunch "to go" if need be.
Throughout the volunteer project, our local staff stays in contact with volunteers either with face-to-face visits or via email/telephone. With longer placements, we visit our volunteers every two weeks (when possible) and volunteers are always welcome to contact the local country coordinator at any time.
On-going volunteer programs in Costa Rica
The Fee and Dates
RCDP Costa Rica Volunteer Programs start every Monday throughout the year.
Volunteer Program in Costa Rica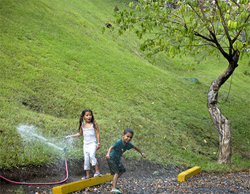 Every year hundreds of volunteers working with UK and USA based organizations end up paying up to $2500 to volunteer in Costa Rica for 2 weeks. Unfortunately, only a small portion of that money actually goes to host the local projects and host families. The local host projects, childcare centers, schools, and local NGO's in Costa Rica are poor and need external support to run their programs. In our program, you will pay your fee directly to host families and projects upon arrival in Costa Rica. When you join our program, we will make sure that all of your money goes to the projects and host families. Part of your fees also helps us to cover our expenses. The program fee is divided into a registration fee ($279) and weekly fee for room, food, coordination, and project donation.
Click to find the allocation of $279
In Costa Rica, the weekly program fee is divided between coordination (services of local staffs), host family (room/2-3 local foods a day depending on the project), and project donation. Costa Rica is an expensive tourist destination; therefore, nearly 90% of your weekly fee goes to covering your food, room, and coordination. While 10% of your fee goes to the project as a material donation (not cash). Below is the breakdown of cost in on a weekly basis.