PROJECT OVERVIEW
Project:

Eco-Agriculture

Room and Board:

Host family

Meals:

Local meals 2 times a day (breakfast & dinner)

Work Hours:

30-36 hours per week

Start Date:

Every Monday throughout the year

Arrival and Departure:

Juan Santa Maria International Airport, San Jose

Location:

San Jose
Get More Info Now
Project Summary
The goal of this project is to learn about Costa Rica's rich ecosystems and the role human beings play in it, especially with coffee farming methods. Costa Rican coffee, "Arabica", is famous all around the world and its high demand has led to exploitation of natural resources in Costa Rica. Coffee cultivation has led to deforestation and the use of chemical fertilizers and pesticides. This has depleted the soil leading to the degradation of Costa Rica's unique ecosystem.
Volunteers in this project will work with a rural community of local farmers and learn about sustainable and eco-friendly methods of farming. You will help with ecological models of coffee production and help preserve the natural environment. You will also work towards reforestation efforts and environmental conservation. Your work will have a big impact on the natural environment.
Contact RCDP today to learn more about the Eco-Agriculture Volunteer Opportunity in Costa Rica.
Skill/Qualification
There are no specific skills required to volunteer in the project. You should however be physically fit as the work can get physically demanding. You should also be able to work outdoors in the sun and be willing to get your hands dirty.
Volunteers must be at least 18 years old for this project. However, volunteers who are at least 16 years old can also volunteer with parental consent. Those below the age of 16 years old need to be accompanied by an adult guardian or parent.
Though not mandatory, it will be helpful to have a basic understanding of Spanish for a more immersive exercise. If you want to learn Spanish, we offer Spanish classes that you can take while volunteering. Volunteers also need to go through a background check.
Volunteer's Responsibilities
There is a lot to learn and contribute to this project. Volunteers will spend a lot of time with the local farmers helping in all stages of coffee farming, from growing seeds in the nursery to final packaging. You will help with cultivation, harvest and production and assist with activities like weeding, planting, and roasting coffee. You will also learn about eco-friendly methods of agriculture and apply these principles to coffee farming.
Project Location
This project is located in the beautiful Monteverde Cloud Forest or Brunca region of the Talamanca Mountains in Costa Rica. The cloud forests are incredibly unique, you will witness low-hanging clouds hovering around the upper canopy of the forest before condensing onto the leaves of trees and dripping onto the plants below, a truly unique ecosystem. These regions also offer spectacular landscapes and scenic natural beauty.
Accommodation/Meals and Supervision
Volunteers in Costa Rica will stay in a volunteer hostel or with a host family. The host family is well screened and used to having volunteers. The local coordinator will place you in the location they think is best. In either location you will have the opportunity to practice your Spanish and meet other volunteers and locals.
If you stay with a host family, you will have a shared room with kitchen and bathroom facilities. You will have the opportunity to do your own laundry or pay a small fee for someone else to do it for you. This can be arranged with your hosts. You will be provided 2-3 meals per day depending on the project, and can request a lunch "to go" if need be.
Throughout the volunteer project, our local staff stays in contact with volunteers either with face-to-face visits or via email/telephone. With longer placements, we visit our volunteers every two weeks (when possible) and volunteers are always welcome to contact the local country coordinator at any time.
On-going volunteer programs in Costa Rica
The Fee and Dates
RCDP Costa Rica Volunteer Programs start every Monday throughout the year.
Volunteer Program in Costa Rica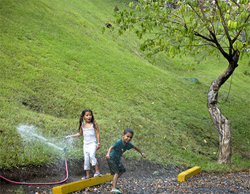 Every year hundreds of volunteers working with UK and USA based organizations end up paying up to $2500 to volunteer in Costa Rica for 2 weeks. Unfortunately, only a small portion of that money actually goes to host the local projects and host families. The local host projects, childcare centers, schools, and local NGO's in Costa Rica are poor and need external support to run their programs. In our program, you will pay your fee directly to host families and projects upon arrival in Costa Rica. When you join our program, we will make sure that all of your money goes to the projects and host families. Part of your fees also helps us to cover our expenses. The program fee is divided into a registration fee ($279) and weekly fee for room, food, coordination, and project donation.
Click to find the allocation of $279
In Costa Rica, the weekly program fee is divided between coordination (services of local staffs), host family (room/2-3 local foods a day depending on the project), and project donation. Costa Rica is an expensive tourist destination; therefore, nearly 90% of your weekly fee goes to covering your food, room, and coordination. While 10% of your fee goes to the project as a material donation (not cash). Below is the breakdown of cost in on a weekly basis.