The Most Affordable
Volunteer fees starting at just
$100
The Most Reputed
Since 1998, over 18,000 Volunteers, hundreds of online reviews
The Most Transparent
No Middlemen. Pay your fees directly to host families and projects.
Do you want to discover the best that Africa has to offer in a small, stunning location? Enroll in our very affordable and enriching program in Uganda and you'll also find out why others call Uganda the Pearl of Africa.
The Uganda is famous for giant silverback Gorillas, and as the region the great river Nile originates, fed by snow-capped mountains. In Uganda, you can also take a boat in Lake Victoria to amazing Sesse Islands and marvel at many different ethnic groups and over forty different languages that are spoken in the country. English though still remains the lingua franca. The capital city of Kampala is vibrant and modern and starting point for many adventures in Uganda.Uganda is also famous for rampant poverty despite the impressive economic growth of late. The country needs help and dedicated volunteers to prosper. RCDP works with local, grassroots organization to offer many meaningful programs like teaching English to students of poor families, work in orphanage, health project and HIV/AIDS project.
Join our program and uplift the lives of deprived people while enriching your own life through the experience. You will not only discover stunning sceneries but also immerse in local culture and understand the country intimately.

Get More Info Now
Available Volunteer Projects in Uganda
The Fee and Dates
RCDP Uganda Program starts every 2nd and 4th Mondays of each month.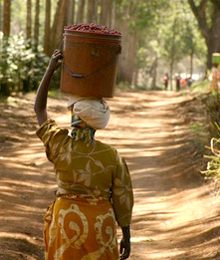 Every year hundreds of volunteers arrive in Uganda to volunteer from UK and USA based organizations and end up paying up to $2500 to volunteer for 2 weeks. Unfortunately, only a small portion of that money actually goes to host projects and host families. The local host projects (orphanages, school, and local NGOs) in Uganda are poor and need external support to run their programs. In our program, you will pay your fee directly to host families and projects up on arrival in Uganda.When you join our Uganda volunteer program, we will make sure that all of your money goes to the projects and host families. Part of your fees also helps us to cover our expenses. The program fee is divided in as registration fee ($279) and weekly fee ($80 per week for room, food, coordination, and project donation).
Click to find the allocation of $279
In Uganda, weekly fee is divided between room/3 local foods a day (50%) and project donation/support of local project staffs (50%). This allocation may be different depending up on locations, project types etc. However, our coordinator will explain these issues before you pay the fee. Please find below the break down of cost in a weekly basis.
| | |
| --- | --- |
| Duration | Fee |
| 1 week | $150 |
| 2 weeks | $250 |
| 3 weeks | $350 |
| 4 weeks | $450 |
| 5 weeks | $550 |
| 6 weeks | $650 |
| 7 weeks | $750 |
| 8 weeks | $850 |
| 9 weeks | $950 |
| 10 weeks | $1,050 |
| 11 weeks | $1,150 |
| 12 weeks | $1,250 |
Airport Pickup and Transfer (1hour) $75.00
Language and Culture Program fee $250.00
The weekly Fee Does Not Include: Airfare, daily transportation, visa and visa extension fee, airport drop, airport taxes, any personal expenses on food and travel, mineral water and soft drinks, gifts to project staffs and host family, laundry, telephone, immunization.
Get More Info Now
Accommodation/Meal/Supervision:
RCDP isresponsible for looking after the accommodation and the meal of the volunteerduring your program in Uganda. Volunteers will with stay either with a hostfamily during their program. Our host families in Uganda are well screened andthey are socially respected. The family will offer you a safe and secure placeto stay. Staying with a host family is a wonderful way to immersion in a localculture.
Our residentcook will prepare you 3 local meals in the Home Base. Ugandan meals haveinfluences from English, Arab andAsia, especially India. Typical meal consists of Meat or chicken stews with rice, chapatti, ugali (a stiff maize porridge) or matoke (a cooked plantain/banana mash).For a sweet dish, locals enjoy a type of doughnut called mandazi.
During theproject, we will constantly monitor your progress and inquire if you're happywith the project or not. Our local coordinator lives close to the project andyou'll have access to his mobile phone number 24 hours.