PROJECT OVERVIEW
Program:

Volunteer in Costa Rica

Project:

Dental Project

Room and Board:

Host family

Meal:

Local meals 2 times a day (breakfast & dinner)

Work Hours:

30-36 hours per week

Start Date:

Every Monday throughout the year

Arrival and Departure:

Juan Santa Maria International Airport, San Jose

Location:

San Jose
Get More Info Now
Project Summary
If you're a qualified dentist or a dental student seeking a meaningful volunteer opportunity, RCDP Volunteers offers a fantastic chance to make a difference through dental volunteering in Costa Rica. This well-structured program provides you with the opportunity to use your skills to help those in need while gaining valuable international dentistry experience.
Costa Rica boasts a developed healthcare system in Latin America, yet there remains a significant gap in dental care. As a dental volunteer, you can address this disparity by working alongside local professionals who often face limited resources and funding. Your contribution will play a vital role in educating underserved communities about dental hygiene and providing them with the essential medical attention they deserve, making a positive impact in the field of dentistry and healthcare in Costa Rica.
Contact RCDP today to learn more about Dental Volunteer Opportunity in Costa Rica.
Skill/Qualification
To participate in this dental volunteer opportunity, you must meet two primary requirements. Firstly, you must either possess a recognized qualification in dentistry or be actively pursuing a degree in this healthcare field as a student. Additionally, having a foundational understanding of the Spanish language is not required but recommended.
Volunteer Responsibilities & Impact
Volunteers are typically placed in a dental clinic or general health clinic offering dental services. Responsibilities vary depending on the needs of the project and your specific studies or qualifications. Remember, you are there to help based on what is possible for both you and the project, which does not always include direct patient care. It is crucial to have realistic expectations, as there are inherent limitations to working abroad in the medical field.
Your role depend on your training and expertise, but are also determined by your Spanish skills, the duration of your program, and your ability to take initiative. You'll have the opportunity to help out in the reception area with appointments and paperwork, assist with teeth cleaning and check-ups, shadow a dentist or hygienist, teach patients about basic dental hygiene and healthy routines, and clean and prepare materials.
Project Location
We offer a Dental Volunteer Program in San Jose, Costa Rica. San Jose is the capital of Costa Rica and the nation's largest city is a cultural hub, whose diversity is one of the attractions of the beautiful country. The presence of numerous historically important buildings and mind blowing museums makes it even more special, along with the fine restaurants and old bars that have been there for decades.
Accommodation/Meal and Supervision
Volunteers in Costa Rica will stay with a host family in shared room with other same gender volunteers. The host family is well screened and used to having volunteers. The local coordinator will place you in the location they think is best. In either location you will have the opportunity to practice your Spanish and meet other volunteers and locals.
While staying with a host family, you will have a shared room with kitchen and bathroom facilities. You will have the opportunity to do your own laundry or pay a small fee for someone else to do it for you. This can be arranged with your hosts. You will be provided 2-3 meals per day depending on the project, and can request a lunch "to go" if need be.
Throughout the volunteer project, our local staff stays in contact with volunteers either with face-to-face visits or via email/telephone. With longer placements, we visit our volunteers every two weeks (when possible) and volunteers are always welcome to contact the local country coordinator at any time.
On-going volunteer programs in Costa Rica
The Fee and Dates
RCDP Costa Rica Volunteer Programs start every Monday throughout the year.
Volunteer Program in Costa Rica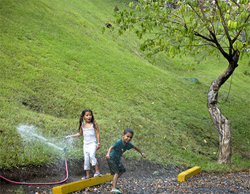 Every year hundreds of volunteers working with UK and USA based organizations end up paying up to $2500 to volunteer in Costa Rica for 2 weeks. Unfortunately, only a small portion of that money actually goes to host the local projects and host families. The local host projects, childcare centers, schools, and local NGO's in Costa Rica are poor and need external support to run their programs. In our program, you will pay your fee directly to host families and projects upon arrival in Costa Rica. When you join our program, we will make sure that all of your money goes to the projects and host families. Part of your fees also helps us to cover our expenses. The program fee is divided into a registration fee ($279) and weekly fee for room, food, coordination, and project donation.
Click to find the allocation of $279
In Costa Rica, the weekly program fee is divided between coordination (services of local staffs), host family (room/2-3 local foods a day depending on the project), and project donation. Costa Rica is an expensive tourist destination; therefore, nearly 90% of your weekly fee goes to covering your food, room, and coordination. While 10% of your fee goes to the project as a material donation (not cash). Below is the breakdown of cost in on a weekly basis.