Volunteer in Brazil
The Most Affordable
Volunteer fees starting at just
$370
The Most Reputed
Since 1998, over 18,000 Volunteers, hundreds of online reviews
The Most Transparent
No Middlemen. Pay your fees directly to host families and projects.
Do you want to visit the land of samba dancers and world-renowned beaches? Enroll in our volunteer in Brazil program and you will experience one of the most vibrant and beautiful places on the planet.
The people of Brazil are full of buoyant spirit and the culture is incredibly intoxicating. There is also the fascinating social structure that makes this place so great to experience. From Ipanema, Santa Teresa, Lapa, to Rio's favelas, the city of Rio de Janeiro where our programs are based, is full of interesting neighborhoods and destinations. When you volunteer in Brazil you will have the opportunity to experience the powerful dynamics of Rio de Janeiro. It will be challenging, rewarding, and fun.Because of the 2014 World Cup and Olympics in 2016, the city of Rio de Janeiro and throughout Brazil is jumping with energy and development. When you volunteer in Brazil opportunities to witness this rapid growth and excitement are seemingly endless. The cultural dynamics and natural splendors of this nation are what bring in millions of travelers every year. Becoming one of these visitors will be an experience that you never forget. Contact us now and experience Brazil and the Marvelous City !
Get More Info Now
Volunteer Programs in Projects in Rio de Janeiro (Brazil)
The Fee and Dates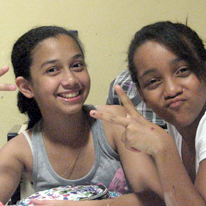 When you join our program, we will make sure that your money goes to the projects and accommodation. Part of your fees also helps us to cover our expenses. The program fee is divided in as registration fee ($279) and weekly fee ($160 per week for room, food, coordination, and project donation).
Weekly fee is divided between accommodation and project donation/support of local project staffs. This allocation may be different depending up on location, project type etc. However, our coordinator will explain these issues before you pay the fee. Please find below the breakdown of cost in a weekly basis.
| Duration | Childcare/Computer Teaching/Youth Athletics | Teaching English/ Handicraft |
| --- | --- | --- |
| 1 Week | $370 | $395 |
| 2 Weeks | $595 | $645 |
| 3 Weeks | $845 | $920 |
| 4 Weeks | $1,095 | $1,195 |
| 5 Weeks | $1,345 | $1,470 |
| 6 Weeks | $1,595 | $1,745 |
| 7 Weeks | $1,845 | $2,020 |
| 8 Weeks | $2,095 | $2,295 |
Fee covers only breakfast in hostel, no lunch and dinner

The weekly Fee Does Not Include: Airfare, daily transportation, Visa and Visa extension fee, Airport drop, airport taxes, any personal expenses on food and travel, Mineral water and soft drinks, Laundry, Telephone, Immunization.
Accommodation/Meal/Supervision:
There are various options for volunteer accommodation and it depends on the time of year in regards to availability. (December through February is Rio's busiest months, and volunteers need to plan far in advance in order to receive adequate accommodation.)
The Volunteer Coordinator will find a place for volunteers to stay in Rio. Most of the time, that's going to be in hostel. Volunteers will share a room with other volunteers and travelers. Breakfast will be provided (usually fruit, coffee, sandwiches). There are several hostel locations throughout Rio that will be safe and secure for the volunteer, as well as a good opportunity to meet other travelers.
Sometimes the Coordinator can find a home stay situation for a volunteer. They would be given a room in an apartment. This is a good opportunity to experience how a person lives in Rio (This is not with a family though). With this accommodation, there are also various locations throughout the city (even in the favelas). Locations will be secure. However, volunteers must prepare their own meals and availability can be highly limited.
Throughout the volunteer project, our local staff stays in contact with volunteers either with face-to-face visits or via email/telephone. With longer placements, we visit our volunteers every two weeks (when possible) and volunteers are always welcome to contact the local country coordinator at any time.