The Most Affordable
Volunteer fees starting at just
$239
The Most Reputed
Since 1998, over 18,000 Volunteers, hundreds of online reviews
The Most Transparent
No Middlemen. Pay your fees directly to host families and projects.
Do you want to visit the land of Machu Picchu and memorizing landscapes and culture? Volunteer in Peru and experience one of South America's most enchanting nations.
When you volunteer in Peru, you will have the opportunityto see all the wonderful nature this country is host to. From the Amazon, theAndes, and Lake Titicaca, Peru is full of world famous destinations andthousands tourists flock to this great nation every year. There is also theurban culture of Cusco that is full of historical prominence mixed with urbanflare. Not to mention the friendly and fascinating people of Peru and theindigenous culture. VolunteeringPeru will allow you to see all the majesty of the nation, while also makinga difference. A large portion of Peru lives in extreme poverty and that's whereyour role as a volunteerin Peru is so very important. Through teaching, orphanage work, orconservation projects, you can make a difference in the lives of the local peopleand their environments they live in. Volunteeringin Peru is your chance to do something meaningful,while also having time to experience such wonderful activities such as theAmazon jungle, river rafting, horseback riding, zip lining, bungee jumping, andtrekking the Inca Trail. There's no shortage of things to do in Peru, andthere's no shortage of need for more volunteers.
Contact us now to find out more aboutvolunteering Peru!
Get More Info Now
The Fee and Dates
RCDP Peru volunteer Program starts every 2nd and 4th Mondays of each month.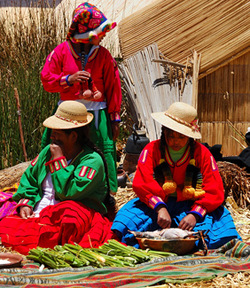 Every year hundreds of volunteers arrive in Peru to volunteer from UK and USA based organizations and end up paying up to $2500 to volunteer for 2 weeks. Unfortunately, only a small portion of that money actually goes to host projects and host families. The local host projects (orphanages, school, and local NGOs) in Peru are poor and need external support to run their programs. In our program, you will pay your fee directly to host families and projects up on arrival in Peru. When you join our program, we will make sure that all of your money goes to the projects and host families. Part of your fees also helps us to cover our expenses. The program fee is divided in as registration fee ($279) and weekly fee for room, food, coordination, and project donation.
Click to find the allocation of $279
In Peru, weekly fee is divided between coordination (services of local staffs), host family (room/3 local foods a day), and project donation. Cusco is expensive tourist city of Peru, therefore, nearly 90% of your weekly fee goes to cover your food, room, and coordination. While 10% of your fee goes to project as a material donation (not cash).. Please find below the break down of cost in a weekly basis.
| | | | |
| --- | --- | --- | --- |
| Duration | All Other Projects | Medical Project | Wildlife Project |
| 1 week | $239 | $264 | $280 |
| 2 weeks | $403 | $428 | $560 |
| 3 weeks | $517 | $592 | $840 |
| 4 weeks | $631 | $706 | $1,120 |
| 5 weeks | $770 | $820 | $1,400 |
| 6 weeks | $884 | $934 | $1,680 |
| 7 weeks | $998 | $1,048 | $1,960 |
| 8 weeks | $1,112 | $1,162 | $2,240 |
| 9 weeks | $1,251 | $1,276 | $2,520 |
| 10 weeks | $1,365 | $1,390 | $2,800 |
| 11 weeks | $1,479 | $1,504 | $3,080 |
| 12 weeks | $1,593 | $1,618 | $3,360 |
Airport Pickup and Transfer $20.00
Spanish Lessons : ( Monday-Friday ) 2 hours a day : $120/ week - mandatory for medical project
$25/week surcharge for medical project
The weekly Fee Does Not Include: Airfare, daily transportation, visa and visa extension fee, airport drop, airport taxes, any personal expenses on food and travel, mineral water and soft drinks, gifts to project staffs and host family, laundry, telephone, immunization.
Accommodation/Meal/Supervision:
In Peru, volunteers will stay or with hostfamilies. Our host families have hosted many international volunteers. They aresocially respected and will provide a safe and secure local for our volunteersto stay. You will have a private room and share kitchen and bathroomfacilities.
Staying in a host family will also get you achance to practice Spanish and immerse in local culture. Many host familieswill not have running hot water. You can ask someone to do your dirty laundryfor a small fee. The arrangement is entirely depended on you and the hostfamily. You can also request to pack your lunch if you intend to be somewhereduring lunch and vegetarian meals are an option. You are also more than welcometo bring your own special diet and prepare them yourself. Please be assuredthat your home stay will be safe and comfortable.
RCDP staff will also inquiry about your healthand safety by visiting you while you're volunteering in the field. Throughout the volunteer project, our local staff stays in contactwith volunteers either with face-to-face visits or via email/telephone. Withlonger placements, we visit our volunteers every two to four weeks (whenpossible).