The Most Affordable
Volunteer fees starting at just
$200
The Most Reputed
Since 1998, over 18,000 Volunteers, hundreds of online reviews
The Most Transparent
No Middlemen. Pay your fees directly to host families and projects.
Discover a country of remarkable diversity in landscapes, wildlife and cultures and some of the friendliest people.
Kenya contains mountains, deserts, tribal cultural and beaches. It is also known for national parks where wildlife roam in abundance. Needless to say, tourism is the main stay of the country but Kenya also has good education system, independent judiciary and press. Despite all this, Kenya suffers from economy that is weak and a society divided along tribal lines. Deprivation is also widespread and many people struggle to eke out enough to survive. This has given rise to some of the largest slums in the world in Nairobi and other urban areas. But there is also hope as government in Kenya is more accountable to its people than other neighboring countries. Grassroots communities are also fighting poverty to build a better future. RCDP International works with these organizations to offer volunteer placements to anyone who wants to experience this fascinating developing country. Be a volunteer in Kenya and live an African dream of exploring a country of fascinating diversity and helping the disadvantaged. The experience will not only change you but it will stay with you forever.
Get More Info Now
The Fee and Dates
RCDP Kenya Program starts every 2nd and 4th Mondays of each month.
Every year hundreds of volunteers arrive in Kenya to volunteer from UK and USA based organizations and end up paying up to $2500 to volunteer for 2 weeks. Unfortunately, only a small portion of that money actually goes to host projects and host families. The local host projects (orphanages, school, and local NGOs) in Kenya are poor and need external support to run their programs. In our program, you will pay your fee directly to host families and projects up on arrival in Kenya.When you join our program, we will make sure that all of your money goes to the projects and host families. Part of your fees also helps us to cover our expenses. The program fee is divided in as registration fee ($279) and weekly fee ($80 per week for room, food, coordination, and project donation).
Click to find the allocation of $279
Weekly fee is divided between room/3 local foods a day (50%) and project donation/support of local project staffs (50%). This allocation may be different depending up on location, project type etc. However, our coordinator will explain these issues before you pay the fee. Please find below the break down of cost in a weekly basis.
| | |
| --- | --- |
| Duration | All projects |
| 1 week | $200 |
| 2 weeks | $320 |
| 3 weeks | $440 |
| 4 weeks | $560 |
| 5 weeks | $680 |
| 6 weeks | $800 |
| 7 weeks | $920 |
| 8 weeks | $1,040 |
| 9 weeks | $1,160 |
| 10 weeks | $1,280 |
| 11 weeks | $1,400 |
| 12 weeks | $1,520 |
Projects at Massai Land - $25 Transport Fee
Program fees cover:
Accommodation (host family)
Food ( local food 3 times a day)
Program Orientation
In-country support
Personalized project
Pre-departure information
Certificate of completion
Fundraising ideas and letters
Discount for returning volunteers
Program fees Exclude:
Visas
Airfare
Personal expenses on soft drinks and foods
Daily transportation
Airport return transfer
The program fees will cover expenses that will begin on the first day of the program to the last day of the program. If you arrive before the first day of the volunteer abroad in Kenya program or you decide you stay beyond your program's last day, you will be responsible for the additional expenses
Accommodation/Meal/Supervision: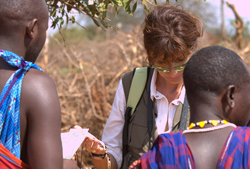 RCDP is responsible for looking after the accommodation and the meal of the volunteer during your program in Kenya. Volunteers will with stay either with a host family during their program. Our host families in Kenya are well screened and they are socially respected. The family will offer you a safe and secure place to stay. Staying with a host family is a wonderful way to immersion in a local culture.
Our resident cook will prepare you 3 local meals in the Home Base. Traditional Kenyan food reflects the many different lifestyles of the various groups in the country. Most Kenyan dishes are filling and inexpensive to make. Staple foods consist mainly of corn, maize, potatoes, and beans. Ugali (a porridge made of maize) and meat are typically eaten inland, while the coastal peoples eat a more varied diet. Other popular meals include chapatti (flat Indian bread), githeri (corn and beans), irio (mashed peas, potatoes and corn) and kuku paka (chicken in coconut curry cause).
During theproject, we will constantly monitor your progress and inquire if you're happywith the project or not. Our local coordinator lives close to the project andyou'll have access to his mobile phone number 24 hours.