Volunteers' Reviews - Sri Lanka
Samantha Leigh Wronski
I am having a wonderful experience working with RCDP as my friend and I prepare to do a health care volunteer trip this December and January in India. Our e-mails are always responded to promptly and politely. So far, I would highly recommend this program.
Jennifer Birch
Hi,
I recently arrived home after my gap year and I thought I would send an email to you to tell you about my RCDP experience. All in all it was fantastic! My host family in Galle, Sri Lanka were completely amazing and I feel I have made friends I will keep for life. The volunteer programme is excellent - I taught in a rural school and I loved every minute of it. I was thoroughly impressed with the company considering I volunteered in India through another company and it was terrible. I made strong relationships with both the children and the other staff and it was horrible to leave them. Michael (my host Dad) looked after us all so well, which given that we had some troublesome volunteers - he handled it well and prevented it from affecting us. The family looked after me so much and I would not have enjoyed it as much if it wasnt for them. I am actually visiting them again in October for their daughters wedding. If any new volunteers need any advice/info about the placement I would be happy to email them and I would definitley recommend RCDP and to live with a host family.
Regards,
Jennifer Birch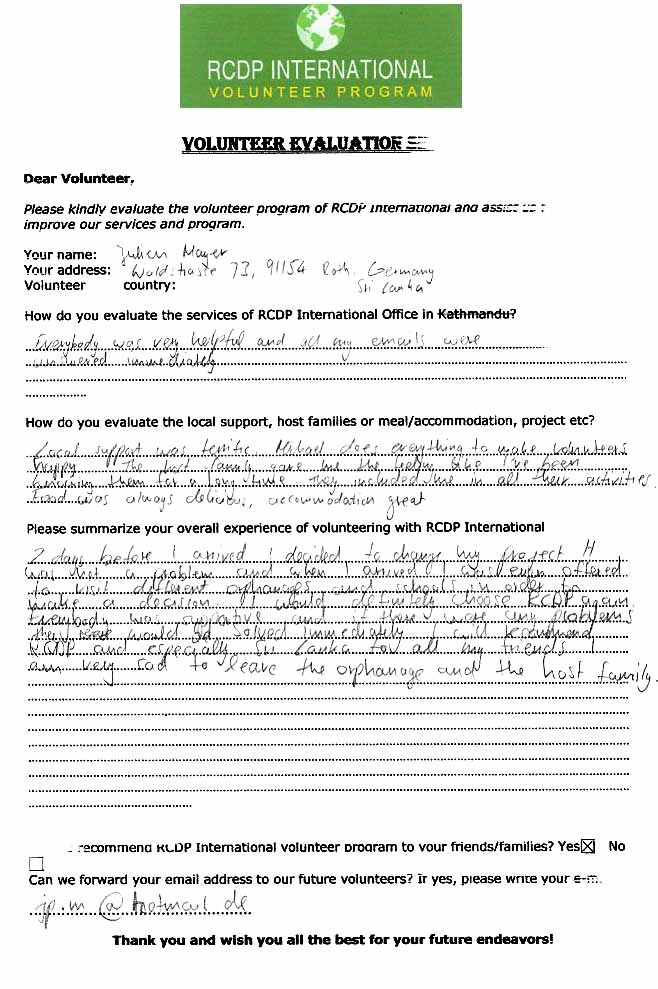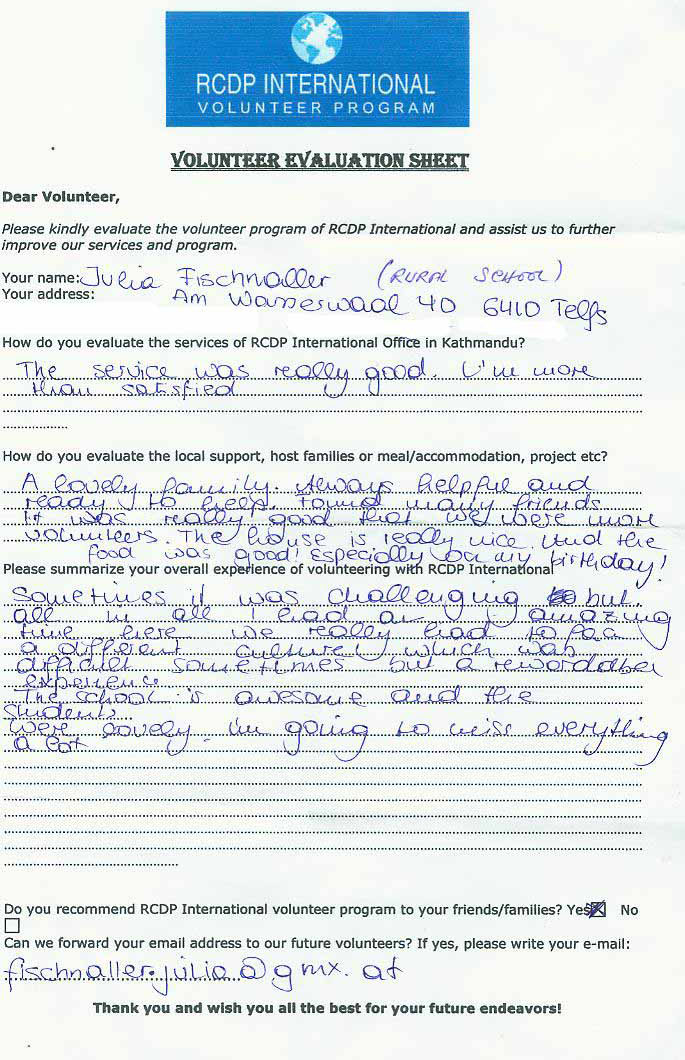 Natalie and Karen-Marie Dolan – France
Hello we are Natalie and Karen-Marie from France presently in one of the most beautiful countries in the world that is Sri Lanka known as the pearl of the Indian Ocean., where I arrived for a volunteer and cultural programme last month organization called "RCDP". Since the Arrival at the Airport it was a great experience traveling in a taxi with traffic and nice green color all over up to the destination. We were traveling in the evening when all the offices were closed for business and the people on the roads were very colorful and cheerful always with smiles on their faces. We arrived at the host family "Galle" late in the night and that night was my first ever out of my country and the host family with their daughter and son were very happy meeting me. We introduced ourselves.
This is our second day of the program, in fact orientation day. Mr. Paul "Coordinator from Sri-lanka" he gave us wonderful orientation and he is very friendly. He made orientation extremely fruitful so we were able to learn about Sri Lankan custom, culture and language within week. There is nothing to say about because we are really thankful for RCDP and its Coordinator.
After our one week training course we started working on the project was awesome, kids were lovely and very friendly environmental. At the beginning we were lost because we didn't have any knowledge about what is volunteering? But Mr. Paul "RCDP Coordinator" used to come and did briefing how to work to be carried out in the project so quite good impression with RCDP. We were group of 4, two from RCDP and two from Global Crossroad we worked as a team no frustration and disappointed.
We have spent two months with the host family and project but during this period firstly we were eager to learn about the culture of the Sri Lankan as well as their language in order to help myself in the short stay and think that we did. It was amazing to see the people with smiles and happy even though just after the Tsunami which had almost taken away all what their forefathers had collected for them in just one horrific day but every thing is good at the moment and we had the chance to go with the host family to see very beautiful temples in the south and also the wild sanctuary where we saw elephants leopards reptiles monkeys and many kinds of birds. We also visited the elephant orphanage and also saw the ancient's cities of the kings ruling the country. My stay at the host family helped me to go to city any time I wanted and also I occasionally went to the beach for a swim and surfing which is very common and the beaches here are hot and once you get into the water it is very difficult to come out and it was so fun and fascinating time for us.
Today our two month stay is going to be over, it is very hard to describe what we now feel towards them however, we know we're going to miss our family, children and local friends. Anyway we t therefore if any one in the world do want to join in this programme I would recommend you to go to the website and direct yourself without hesitation as I feel the money you spent is rewarding event though after the tsunami which has destroyed certain areas in the country all is good and excellent
Good luck!!! We were missing you all.
I sincerely thanks for the good job done by the RCDP coordinators and I assure him that all my past memories will remain with me and also I will certainly be with you in Srilanka once again as I feel very sorry to leave you.
Natalie and Karen-Marie Dolan

From France
Sandrine from Switzerland
I am Sandrine from Switzerland who was here in Srilanka on 5th of Feb with RCDP. I was warmly welcome at the airport by the host family and driven off the airport for abut five hours journey to were I had to stay. The host family consist of four members were the mother stays at home were as the children and the father are employed. I was given a Sinhala culture programme for two weeks and then send to work at a physically and mentally handicap orphanage were I started teaching English to the kids it was very sad to see such children with no much care given and I was very happy be with them and in the afternoon I work with elder children doing paintings and drawings. This was something new to me and I loved so much to work with them and also in the evenings I and some volunteers take some elder orphans by tuck tuck (Local Transport) to the beach and make them happy. I do new things everyday in order to keep everyone happy so I you do wish to come to Srilanka it is a beautiful country with the most beautiful mountains in the hill country and also very beautiful beaches in the south were i always go in the evening to refresh myself.
The programme coordinator arranged a trip which was in my programme to see the elephant orphanage the sacred city of Anuradhapura , Kandy and the golden temple at Dambulla for 4 long days. This was a new experience for me as I went with the host family and enjoy with them while sight seeing. The historical places were very beautiful and amazing. In Anuradhapura we all had a bath in one huge lake and this was my first experience outside world were I came a cross such a huge lake. The food and accommodations was very good and I sincerely thank for the good job done by the coordinator and I assure him that all my past memories will remain with me and also I will certainly be with you in Srilanka once again as I feel very sorry to leave you .
Thanks to RCDP and Mr. Michael for this opportunity
Amelie Lim – Australia, NSW
It was really difficult to choose right organizations to do volunteering. I found lots of volunteering organization in the website but hard to choose which one is cheapest and good service provider. I made a call to RCDP Nepal and India and luckily the people from the organization explained me about the organization and its goal clearly. And I knew that RCDP is one of the trustful organizations from around the world. As I arrived Colombo on 25 th June 2006 Sri Lankan coordinator was picked me well and took me to the RCDP office Galle . I initiated my first week language and cultural program with two more volunteers, which has covered nearly every aspect of the country. The language class was very useful to me. Everything was well organized. You will find someone always there if you need some help.
I was in the orphanage project. The volunteering work was challenging in one hand and rewarding too. People who were there always made us feel comfortable and welcome. We finished our stay here having much familiarities and impressions with RCDP- Sri Lanka.
The children seem very pleasant because of our presence there but now I am little bit saddened leaving these children beyond us. The works that I have done there were providing food to the children, assist them in their cleanliness, teach them and play with them different games. The host family was great and very gracious. We got chance to have a delicious food in the family which was really different experience in the life.
The strong ties we built and the rewarding experiences that we made here were really priceless. I further suggest to upcoming volunteers to join this RCDP- Sri Lanka program, which will be an unforgettable experience in your life.
Natalie Kozinska
RCDP- Sri Lanka program has provided me to gather lots of memoirs and wonderful moments in my life. The orientation program was extremely demanding and useful for my stay in Sri Lanka. It is essential to everyone to step in new society and new culture.
I worked in an orphanage project where I got chance to help out Tsunami surviving kids for three months. The time was most astounding in my life. My stay in the project gave me knowledge that one person can make a difference in someone's life. I got a chance to talk with the people who knew about the terrible circumstances of Tsunami. For this I would like to thank to RCDP- Sri Lanka, which has offered me this golden opportunity.
The Sri Lankan are warm, gentle, kind and bighearted people. They are ready to share their home and food with you even they have almost nothing. You also get chance to help out them in personal ways like clothing, furnishing a roof and their some other house works. If you are decided to delve into the program it is sure that you will be satisfied from your projects and families there.
This is my picture, my host father is feeding me a ceremonial food in a neighbor sister' birthday party and they are very welcoming and I got my perfect place to stay. There are other 3 members in the family his wife, daughter and son they always became very nice to me. They used to take to around the local community. It was a great time for me. One day a neighbor invited me for dinner party, it was a birthday of her sister and I was welcomed from them it was an excellent moments.
Every volunteer should be prepared to handle all kinds of environment over there. Though the work is tough but it satisfies you. We have to compromise with different kinds of things like use-shared rooms, use cold water to shower, and adjust you in the limited comforts. So you need to be patient and recognize with the all environment.
I therefore recommend a person who wants to go Sri-lanka to do any kind of work RCDP is the perfect organization.
Cheers!
Claire Kenned
The first week orientation course has helped me much in breaking the barriers with the Sri Lankan people. The Sri Lankan people are always happy when they hear a foreigner speaking some Singhalese. The tour was informative and educational. After this fantastic week I joined in the orphanage project.
The orphanage work at Galle in Sri Lanka dated on July, 2006 was unbelievable and impressive experience in my life. I took part in the program for four weeks. The first two weeks programs were really enhancing and more effective for my project stay in the Sri Lanka . I learned Sinhali, the local language which was precious and new taste to me. It has helped me to break the language barrier there.
It was interesting to face a new environment everyday. It gave me a chance to be a patient and I faced it comfortably. The time in the orphanage was best reward in my life. The love from the kids and staffs of the orphanage helped to establish a good intimacy among us. I would like to thank especially to Mr Paul (RCDP Coordinator) who has given me good information about Sri Lanka and the Sri Lankan culture. It was very useful to adjust myself in the culture before I begin the program. It was unforgettable experience and will be the same if you delve once in this distinctive world.
Jennifer Suziki, Tom Nesbit & friends
From the very beginning of our arrival we enjoyed our stay here. It is hard to believe that today is our last day of the program. It appears like yesterday we arrived and today we are leaving. We were here just for 4 weeks and at last it came up to end. Warm greetings from Mr. Paul (Coordinator from RCDP) and his son were the glimpses of Sri Lankan culture in the very beginning of the program. They welcomed us as per their culture which was new taste for us ever we made in our life. We were little bit anxious about our project and host family in the initial point but because of the wonderful environment, generosity and gentleness of the family our all kinds of nervousness gone away.
This is most successful, organized and unforgettable program by the RCDP to us and further we wish all the best for the success of the organization that could bring such a memorable program to future participants' as we experienced here in Sri Lanka .
I would like to recommend to upcoming volunteers to come with open heart, open mind and one would be able to learn much from the Sri Lankan culture. The people here are simply amazing, kind hearted and so hospitable.
Heshof Liesbeth
I am leaving on Friday and I can not imagine the day of separation with these kids. It will be a very sad moment in my life to go far away from them.
I found my first week very good and especially the free time in the evenings to go around was fun. It was great chance to see and learn more about the area there. New volunteers should research as much as possible about this place and ask as many question as they can. At the moment I am in the orphanage and running my last week here. The familiar environment here is really touchy one. The kids here would love to see me around of them but time has gone so fast and I have to leave this beautiful place soon because of my time schedule. All the children address to me as auntie which is so wonderful to hear from them when you come back to orphanage.
I have involved in different activities with the kids here. Visit to an elephant orphanage was brilliant tour. It was quite nice trip to them. All the people in the group sang all the way to make the children fun. We took the children down to the river where they could see the elephants bathing on the river. On the way back we bought some candy and Pringles for the kids. All the kids enjoyed a lot our entire trip to elephant orphanage. We visited lots of cave temples; ancient city named Sigirvia and went for safari in one of the forest parks. The most thrilling thing was having our jeep charged twice by an elephant. The weekend in Haberona which is north from Gampola was brilliant and was the right choice of place.
I am leaving on Friday and I can not imagine the day of separation with these kids. It will be a very sad moment in my life to go far away from them. Love
Rebecca Ackermann
The wonderful Mr. Paul has made our stay in this enchanting place memorable. From the time we arrived, he handled every aspect of our family's well being through work, play and travel. His knowledge of the local culture and well rounded caring management experience, with his social government background, more than qualifies him for all he did for us. He cares for his country and thrives on the interaction with people that care to make a difference. I brought a laptop, microphone and ESL software program that made such an impression on helping teachers in schools and the temple to improve their English pronunciation. Their honest thankfulness will be something that I will carry with me, always. In his retirement he finds fulfillment in using his connections to have placed my professional strength and knowledge where it best fit. He took enormous personal effort in satisfying our dreams of visiting temples and personal meetings with Buddhist priests, translating for hours and returning us safe and sound every time. He opened his house and we became very close. We even cooked in the kitchen learning local cooking and preparation and preparing some western foods he tried as well. He and his wife made our boys feel at home in this far away and different place in an unbelievable friendly way that I will never forget and I will always thank them for.
Keep up the good work building bridges,
Karen MacCann
RCDP' one of the staffs from the organization in Sri Lanka was at the airport upon my arrival to pick me up. It was nice to see someone at the airport and I didn't have any problem to start my program there. The people and staffs are so nice and very cooperative here. If you join this program you will always find a homely environment here.
The journey down to the Galle took us through a numbers of small towns with shops at the front of the houses. The roads are fairly bumpy but we were too busy looking at all the new sights to notice too much. After a long drive we came to the top of the hill from where we can see whole view around the houses- it was so impressive looking over the lake and seeing the mountains in distance. After a short time we became very accustomed to the house and enjoyed the different surroundings. All of the people were very glad to see us there and always smiled and waved. It was great chance to see a herd of about hundred elephants that was pretty close to our vehicle in the National Park there. We saw lots of safety fences and tree houses that the conservation unit uses.
As per my interest I joined teaching in school. The teaching can be hard work but was very rewarding to me. I found the level of English is different in different classes. The higher grades students were more competent in English than the lower grade people. But we had a mate who would attend in our classes with us to help and explain the task that we need to teach to students there.
Hettipola is a very cheapest place to do some shopping which is located in distance of 40 minutes drive on local buses from the project. I would suggest you to go there to buy something if you need.
After your project work, you will have chance to read some books, playing cards with the host family members and listen some beautiful music. Sometimes, it was nice to see cooking in the family. They also have given me chance to learn how to cook food there. It was totally different and very interesting to do all these activities in the family.
Overall, I had an excellent time here that I will always remember in my life. The amazing nature of the children impressed me every time. Making fun, speaking and seeing to the locals was an important part of the whole experience. Sometimes we used sing language to communicate with the local people as they do not know English properly. Some phrases that I learned during my orientation period became very helpful to pick some of the simple phrases of the locals. To experience all these things this nation would be a right choice to everyone.
Ian Hartmann and Claudia Merrick
The programs offered by RCDP- Sri Lanka are brilliant. I am satisfied with my decision to join with this organization. I was well transferred to the RCDP office by a coordinator of Sri Lanka which is located in Galle . The first week's orientation program was a good introduction about the Sri Lankan culture and their way of life. Our instructors gave us sufficient information about the country and the condition of the people after the great horrified Tsunami. Even the area is outstanding in natural beauty with excellent examples of flora and fauna everywhere you look. If you join with the people here the opportunities like swimming in the beach side, visiting the local town and cycling or just relaxing in the sun with a book became remarkable time in the life.
After the completion of all language and cultural activities RCDP Sri Lanka provided an opportunity to help out Tsunami victims. I worked there for one month and joined in teaching placement. It was magnificent staying with the school children as the number of students want to learn English. It was really challenging job to teach in a primary school in the beginning but it became more rewarding time sooner I attached with them. We should work hard to make the teaching environment easier to the students. We can teach any subject as per our interest and sometimes it is more interesting to organize some other extra activities for the children.
The voluntary teaching we are doing can be both hard and rewarding at the same time but we realize that there is a long way to go to make it comfortable. It is unbelievable progress that we have made even though it is only three weeks since we started and hope it will be same with the upcoming volunteers. The more you work hard the more you will get pleasure from the people there. We were also request to assist the teacher at school to get better their conversational English.
RCDP Sri Lanka really worked hard to make our stay more comfortable and flexible. The deep interest of staffs upon every volunteer inspired to work more interestingly. Everybody here is extremely friendly, cooperative, and supportive and we received sound help from them when I needed.
Writing from Galle, Sri Lanka.
Julia Anderson-Canada
We were welcomed at the airport with a very big hospitality from the coordinator of RCDP-Sri Lanka "Mr. Michael" and well transferred to the RCDP office at Galle where language and cultural immersion was held. It was quite interesting learning Sri Lankan language and about their culture. Everything to do with our stay here was better than expected. The staffs here are always smiling and seem to love their work and this attitude is most contagious. The information delivered to us was most enjoyable and educational. After the completion of my cultural and recreational phase we started working on volunteer project in Galle .
Our four weeks voluntary program in teaching which is located in a little rural area on the edge of Galle fort which is about 25 min ride from the host family it was really astounding place where we can see beautiful beaches, Dutch fort, green forest, lakes, gentle rolling hills etc. After the 2 completion of teaching we moved into Elephant orphanage placement we really enjoyed here.
There was several kind of activities we get involved during our project time we had our own cook, he cooked us Sri Lankan rice and curry everyday which was so delicious. It gave us new taste and we enjoyed a lot to have the food. The life style here seems so simple than westerners. The tank nearby our home stay viewed so wonderful where local people they would come to take bath and wash their clothes. The drinking was boiled which was pumped up from the ground. The facility of electricity was not enough but the electric power from the solar worked very well.
The local environment gave me an opportunity to submerge into the different world than mine. We joined the activities like riding on cycle and walking to the paddy field which takes you o the nature. We saw the traditional method of two oxen pulling the plough in the field paddy field. The children and local villagers always smiled and waved their hand to us saying that hello and goodbye. The local children seemed incredibly poor by our standards often no shoes but have a lovely nature. It can be a new lesson to all people who comes here to visit and do volunteering in this beautiful nation.
In elephant orphanage placement, our daily works that we undertook were fence and tank monitoring; visit an elephant damaged place to survey it and stay in some tree hut where we could see glimpse of elephant before dawn and park elephant observation. Sometimes local people were annoyed by the elephants as we knew from an interview with them. We saw some terrible site like complete kitchen had been destroyed by a single male elephant. We tried to find out the causes behind of it. We came to know that elephants were there first and farmers are cultivating traditional elephant territory.
Except all these kinds of activities, the area is very famous for bird watching and we could get chance to observe wildlife there. I enjoyed a lot with the people there. Accompany from the staffs and community people was unforgettable and we amused playing crickets, carom board; a famous Asian game and some matches too. I would like to suggest to upcoming volunteers that it is a country of scenic beauty so please come here and experience a typical Sri Lankan lifestyle which you could get once you are here.
Laetitia Ronse-Canada
It was nice to see someone at the airport to pick me up. After my arrival I joined the program. The first week program was very well planned in that allowed me to get accustomed to the Sri Lankan culture. I am so impressed and pleasantry surprised seeing efficiency, management and planning of the RCDP- Sri Lanka. All the staffs are always cheerful, so helpful and friendly and endeavoring at all times to make us feel welcome like home. The information about the nation and culture was more educational and I got chance to learn more about the people there. The village stay program was wonderful. It was very nice to see the village site and interesting to talk with the local people. First week language program is the best offer from the organization. Don't forget to grasp this golden opportunity offered by the RCDP Sri Lanka because it would be helpful to everyone.
I enjoyed a lot to see the beauty of the country. Dias gave me chance to see around the place with a very good guided tour. The Saturday was reasonable so we relaxed by the pool, and in it and then in the sea. I haven't been in the sea for at least a decade, and I'd forgotten what good fun it is! It was quite strong though and we found ourselves being dragged down the beach towards huge rocks but we got out of the sea just in time. The food was lovely, with lots of fish and rice and prawns. Despite the weather the beach was wonderful and is rated as arguably the prettiest in SL. I might go back there later in my time when the weather improves.
My last week was more typical for me. I entertained doing painting and teaching with the kids there. We went for dinner with Sajeeva, our supervisor and Dias our guide for lunch on Friday after the morning lesson. We have had different typical foods and drinks.
Nirosha, Sweden
I am Nirosha who did volunteer work in Sri Lanka. This wasn't my first time in Sri Lanka but it was my first time getting in touch with the people and learning about the culture there. I got picked up at my hotel and then we went to my host famliy who lived in Galle in south of Sri Lanka . They were all friendly to me and I felt really welcome. They made sure I had everything I needed and the Sri Lankan food was sometimes unbelievable amazing good. It was a great place to stay at. The first week we had Sinhala course which was good at first but afterwards I realise the money we paid was a lot for so little. I thought it would be more like a seriously course but it wasn't quite what I expected and I think I speak for all who went for that course at same time as me.
After that course I started my work at Sambodhi and the school next to it. In the morning I was helping the teachers in classes which was really fun because I love children but there wasn't much to do tough. They couldn't hardly speak any English so that was sort of a problem because I couldn't neither teach or speak with the people there except playing around with the kids a bit.
In the afternoon I hung out at Sambodi, which I really enjoyed cause all the people asked for there was love. It was amazing to be a part of their smiles everyday.
One month passed by and finally I felt I needed to be able to communicate with people and I felt I needed more of a challenge.
My coordinator Michael helped me out and right away the next day I started to teach the monks in Mahmodera temple. In beginning it was sort of confusing and their culture was very new for me.
It took a few days to get know the monks a bit and figuring out what the monk's level was in English and other things. After a week I went everyday to the temple with a smile on my face. Tough it was sometimes hard to keep the control and be a serious teacher those monks filled me with laughter, joy and love.
They tought me a lot and it was sure a challenge that have been giving me so much. I had the time of my life during my time in Sri Lanka . The biggest reason of my happy days in Sri Lanka are my newfound friends and they made my days so much brighter. They were the people who actually really learned me about the culture and Sinhala.
For me except helping people finding new friends for life was the best thing about this volunteer time. All the good times that I'll never forget. All the memories that will always be close to my heart.
I think Sri Lanka is growing for every year and I wish all the people happiness!
Hi Hom,
I am sorry for the late answer. I am back in Denmark now.
However I had an amazing stay. Everybody at MEF was so nice and helpful both on working there but also what to do on weekends and how to do it.
I loved it and I ended up having a close relationship with my elephant and my mahout, which made it very difficult to leave.
I am confident that I will go back there :o)
When I have sorted out the 2000+ photos I have taken I will post some on you website. I can also share a video already on my own facebook page of me having an elephant shower :o)

--
Med venlig hilsen

Rikke S. Christensen
rikkeskodborg@gmail.com