The Most Affordable
Volunteer fees starting at just
$85
The Most Reputed
Since 1998, over 18,000 Volunteers, hundreds of online reviews
The Most Transparent
No Middlemen. Pay your fees directly to host families and projects.
Explore a country that many claim is the friendliest in Africa and is also known for great cultural diversity, rich history and as a land of sunshine.
Ghana is also one of the most democratic countries in Africa. It enjoys peace, free press and well educated citizen. With the increase in tourism and discovery of oil, Ghana is also striving fervently towards prosperity. Ghanaians are also known for their hospitality and visitors to their land are welcomed with open arms and treated as a family member. But Ghana is not a country without a problem. Poverty still remains rampant and there is a growing problem of jobless workers. Schools and hospitals in rural areas aren't also well equipped with trained teachers and doctors. RCDP is working with grassroots organizations in the country to help disadvantaged Ghanaians get a better future. Join our volunteer program in Ghana and experience this incredible country while also immersing in local culture. You can choose from volunteer programs in Ghana like Teaching English to students of poor family, work in orphanage, health project and HIV/AIDS education program.
Get More Info Now
Available Volunteer Projects in Ghana:
The Fee and Dates
RCDP Ghana volunteer program starts every 2nd and 4th Mondays of each month.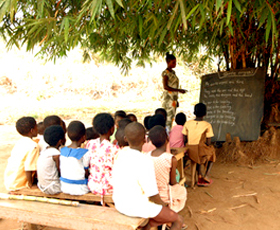 Every year hundreds of volunteers arrive in Ghana to volunteer from UK and USA based organizations and end up paying up to $2500 to volunteer for 2 weeks. Unfortunately, only a small portion of that money actually goes to host projects and host families. The local host projects (orphanages, school, and local NGOs) in Ghana are poor and need external support to run their programs. In our program, you will pay your fee directly to host families and projects up on arrival in Ghana. When you join our program, we will make sure that all of your money goes to the projects and host families. Part of your fees also helps us to cover our expenses. The program fee is divided in as registration fee ($269) and weekly fee ($80 per week for room, food, coordination, and project donation).
Click to find the allocation of $269
In Ghana, weekly fee is divided between room/3 local foods a day (50%) and project donation/support of local project staffs (50%). This allocation may be different depending up on location, project type etc. However, our coordinator will explain these issues before you pay the fee. Please find below the break down of cost in a weekly basis.
| | |
| --- | --- |
| Duration | Fee |
| 1 Week | $85 |
| 2 Weeks | $211 |
| 3 Weeks | $298 |
| 4 Weeks | $385 |
| 5 Weeks | $472 |
| 6 Weeks | $559 |
| 7 Weeks | $646 |
| 8 Weeks | $733 |
| 9 Weeks | $820 |
| 10 Weeks | $907 |
| 11 Weeks | $994 |
| 12 Weeks | $1,081 |
Airport Pickup and Transfer (1- hour) $50
Comprehensive Travel Insurance $3.49/day
Language and Culture Program fee $250

The weekly Fee Does Not Include: Airfare, daily transportation, visa and visa extension fee, airport drop, airport taxes, any personal expenses on food and travel, mineral water and soft drinks, gifts to project staffs and host family, laundry, telephone, immunization.
Get More Info Now
Accommodation/Meal/Supervision:
RCDP is responsible for looking after the accommodation and the meal of the volunteer during your program in Ghana. Volunteers will with stay either with a host family during their program. Our host families in Ghana are well screened and they are socially respected. The family will offer you a safe and secure place to stay. Staying with a host family is a wonderful way to immersion in a local culture.
In Ghana, you will enjoy 3 local meals during your stay. Ghanaian traditional meals vary with ethnic group, tribe and clan. The main meals are organized around a starchy staple such as rice, fufu or banku etc. with which a sauce or soup saturated with fish, meat or mushrooms is served. Fufu is a pounded cassava and plantain or pounded yam and plantain, or pounded cocoyam ortaro, where as Banku is cooked fermented corn dough and cassava dough. In the soup, spices such as thyme, garlic, ginger and bay leaf and vegetables such as wild mushroom, tomatoes and various types of pulses are used.
During the project, we will constantly monitor your progress and inquire if you're happy with the project or not. Our local coordinator lives close to the project and you'll have access to his mobile phone number 24 hours.