Pay as low as $100 per week to volunteer programs

Pay directly in Costa rica to the projects and host families

Support poor orphanages, school, conservation projects, and other NGOs
Do you want to experience on of the most bio-diverse ecosystems on the planet? Volunteering in Costa Rica is your opportunity to visit one of Central America's most breathtaking locations. When you volunteer in Costa Rica you get the chance to see exotic wildlife, majestic nature, and interact with the friendly people of Costa Rica.

Costa Rica is a very popular destination for many people across the globe and there's little doubt as to why. The nation of Costa Rica is filled with mighty volcanoes, plentiful waterfalls, tropical forests, and exotic creatures. From its' inland wonders to its' picturesque beaches, Costa Rica is full of splendor. However, there is still poverty and environmental concerns that make your work as a volunteer ever so important. Volunteer in Costa Rica and find out how you can become a helper in this beautiful land. Contact us now and find out how you can be a volunteer in Costa Rica !

On-going volunteer programs in Costa Rica
The Fee and Dates
RCDP Costa Rica volunteer program starts every 2nd and 4th Mondays of each month.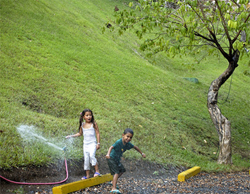 Every year hundreds of volunteers arrive in Costa Rica to volunteer from UK and USA based organizations and end up paying up to $2500 to volunteer for 2 weeks. Unfortunately, only a small portion of that money actually goes to host projects and host families. The local host projects (orphanages, school, and local NGOs) in Costa Rica are poor and need external supports to run their programs. In our program, you will pay your fee directly to host families and projects upon arrival in Costa Rica. When you join our program, we will make sure that all of your money goes to the projects and host families. Part of your fees also helps us to cover our expenses. The program fee is divided in as registration fee ($259) and weekly fee for room, food, coordination, and project donation. Click to find the allocation of $259


In Costa Rica, weekly fee is divided between coordination (services of local staffs), host family (room/3 local foods a day), and project donation. Costa Rica is expensive tourist destination; therefore, nearly 90% of your weekly fee goes to covering your food, room, and coordination. While 10% of your fee goes to project as a material donation (not cash). Please find below the break down of cost in a weekly basis.
| | | | | | | | | | | | |
| --- | --- | --- | --- | --- | --- | --- | --- | --- | --- | --- | --- |
| 1week | 2wks | 3wks | 4wks | 5wks | 6wks | 7wks | 8wks | 9wks | 10wks | 11wks | 12wks |
| $200 | $300 | $400 | $500 | $650 | $725 | $800 | $875 | $1025 | $1100 | $1175 | $1250 |
Please add $50 per week for Sea Turtle project

Special Project Surcharge (daily): $5 applies to Medical, Conservation and Construction Projects.

Please add $5 per day for Turtle Conservation project and Conservation and construction projects

Please add $25 per each additional week for Internship program

Airport receive/drop (both way) $85
The weekly Fee Does Not Include: Airfare, daily transportation, visa and visa extension fee, airport drop, airport taxes, any personal expenses on food and travel, mineral water and soft drinks, laundry, telephone, immunization, etc.
Accommodation/Meal/Supervision:


Volunteers will stay in a hostel or with a host family. The host family is well screened and used to having volunteers. The local coordinator will place you in the location they think is best. In either location you will have the opportunity to practice your Spanish and meet other volunteers and locals.
If you stay with a host family, you will have a private room (if available) and share the kitchen and bathroom facilities. Many of the host families do not have running hot water. You will have the opportunity to do your own laundry or pay a small fee for someone else to do it for you.  This can be arranged with your hosts. You will be provided three meals per day, and can request a lunch "to go" if need be.

Throughout the volunteer project, our local staff stays in contact with volunteers either with face-to-face visits or via email/telephone. With longer placements, we visit our volunteers every two weeks (when possible) and volunteers are always welcome to contact the local country coordinator at any time.